Bougatsa Thessaloniki The Serraikon
FRANCHISE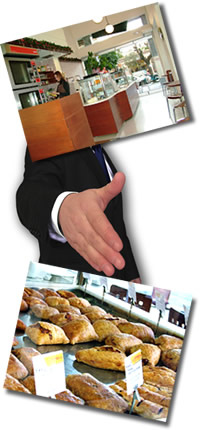 The franchise activity of our company started since 1999 in Thessaloniki where two shops were opened.

We expanded in Athens and Megara where we opened four new shops and in the meantime a new one in Kilkis.

Our philosophy in our group at shops is the continuous cooperation with our cooperators.

Our concern is to provide to the group of shops with handmade high quality products,,which give to
the franshisor the opportunity to have a dynamic company-investment.
Prerequisites:
1.Franchise fee 10.000€
Investment cost from 50.000 € (depending on the size of the shop)
Support offered:
1. Contract for 10 years.
2. Extensive training – set-up and development.
3. Operation manual.
For further details concerning the Franchise contact us
INFO
ΤEL. +30 2310288207
e-mail :info@serraikon.com
---
"The Serraikon"

PRATSINAKIS G.-TZIALI a oe
"The Serraikon"-Tel: +30 2343043575 FAX: +30 2343043574
MOB 6977991974
e-mail :info@serraikon.com
3ο klm.GOUMENISA-PENTALOFOS
---
Products
---